Infrastructure
Cressy Street Govan
Duration: July 2018 to November 2019
Contract Type: NEC3 Engineering and Construction Subcontract April 2013
Type(s) of work: Contaminated Land Remediation
Project Description
The project undertaken by Enviraz Scotland Ltd at Cressy Street, Govan was a key part of Scottish Water's £250m wastewater infrastructure program, with their alliance partner, and our client, Amey Black and Veatch (aBV). The project aims to create a modern sustainable drainage network alleviating flooding across the Greater Glasgow area and improving the environment and biodiversity on the River Clyde and its tributaries.
The work at Cressy Street, is an integral part of Scottish Water's investment in upgrading around 200 Combined Sewer Overflows on the River Clyde, the River Kelvin and White Cart Water.
aBV identified that the land surrounding Cressy Street contained significant amounts of asbestos materials that would require to be removed prior to the installation of the Combined Sewer Overflows, and as a result, a licensed asbestos contractor would be required to undertake these works.
Enviraz were appointed as the appointed licensed asbestos contractor in July 2018 and began working with our client to help prepare the land for the installation of the Combined Sewer Overflows.
Initial Difficulties and Innovation
aBV, an Alliance Partner with Scottish Water, had been contracted to carry out repairs to an existing brick sewer situated within the grounds of the BAE Systems Site near the River Clyde. The tender documentation provided included a Site Investigation Report which identified the presence of Asbestos Containing Materials (ACM's) within the soil, at varying depth, adjacent to the sewer line.
Aware that Enviraz were the Measured Term Contractor for Asbestos Removal & Remediation to Scottish Water, aBV approached Enviraz, initially for a quotation for the removal and disposal of asbestos contaminated soil from the site as aBV's company policy prohibited employees from carrying out any works involving ACM's.
In line with Enviraz Management System the enquiry, from aBV, was logged in our EasyBOP operating system and allocated to our QS, John Kennedy, and Contracts Manager, Craig Smith, to provide a suitable quotation for the works required.
Upon initial investigation of the tender information and scope of works it became apparent that the Site Investigation Report and Activity Schedule had not been prepared with a large scale asbestos remediation project in mind and that simply excavating and removing 7000m3 of asbestos contaminated soil from the site would be cost prohibitive to the entire project, approximately £3.5m.
Enviraz recommended further groundwork investigation, at varying depths in an effort help reduce project cost, and disruption. The further investigations, also involved determining the location, type and extent of any asbestos contamination. Once the survey was complete and the extent of contamination properly assessed, Enviraz were able to suggest a more cost effective solution which would achieve exposure of the brick sewer and allow the repair works to be completed while minimising the extent of materials requiring to be removed form site.
The drawback to this plan was addition of 2nr weeks to the contract programme to allow this investigation to be undertaken. Both parties agreed that the risk was worthwhile given the potential benefits to the project.
The finalised survey confirmed that the situation regarding the asbestos contamination of the soils was not as severe as first envisaged and there would be potential to reuse much of the soil being excavated, as backfill and ultimately reduce the amount of off-site disposal. This solution was welcomed not only by aBV, but also by their alliance partner, Scottish Water.
Works Undertaken
Enviraz has extensive experience of dealing with the unique complexities of planning and programming large scale asbestos removal contracts, including those involving the remediation of contaminated land. Through engaging with our pre-approved groundwork contractors, we were able to collaboratively devise a strategy for undertaking the works.
This strategy involved the following:
Asbestos trained plant operatives carrying out excavation of contaminated soil to expose both the brick sewer and both the temporary and permanent access road;
Screening of excavated soil by Enviraz Operatives to remove visible ACM's from excavation arisings;
Separation of timber, rock and other materials from excavation arisings to minimise quantity of contaminated soil to be removed off site;
Stockpiling and protection of screened and segregated excavation arisings and protection of same with 1000-gauge polythene;
Implementation of continuous sampling of excavated materials to determine contamination levels;
Continuous background air monitoring to maintain control levels.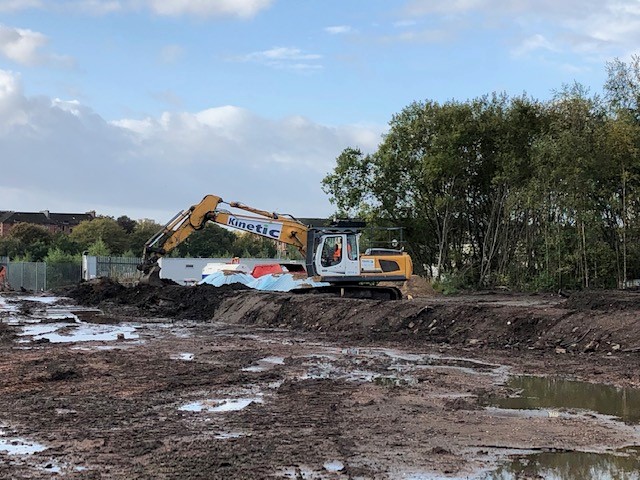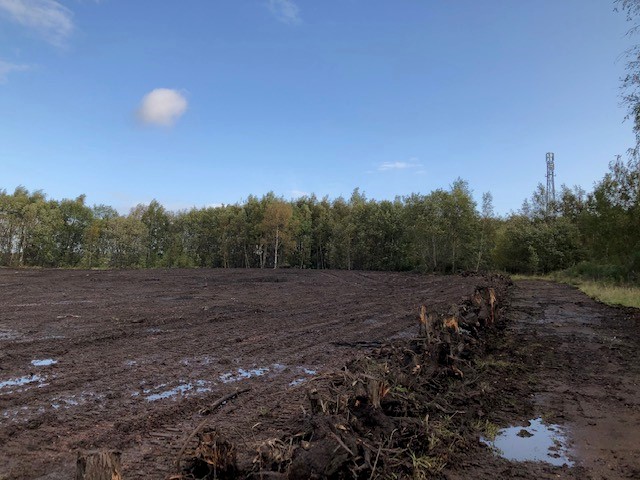 In line with our standard procedures and project controls the project was visited regularly by our Health & Safety and Compliance Teams with regular auditing taking place. Audits were recorded using the SmartForm functionality of EasyBOP. These SmartForm are company designed and available via the SmartForms App on handheld mobile devices (a sample Safety Inspection Record is attached for evidence).
The project was completed in line with the project milestones and ultimately only 16 tonnes of asbestos contaminated material had to be removed and disposed of offsite which, when added to the cost of the initial survey, provided a significant cost saving for our client.
By working in partnership at all stages of the project Enviraz were able to design a solution which delivered the necessary outcomes in the most cost-effective manner.
Working Relationship
Enviraz and aBV entered into an NEC3 Engineering and Construction Subcontract April 2013 (with amendments) incorporating core clauses for Option B (Priced Subcontract with Bill of Quantities), dispute resolution W2 and secondary Options X2, X7, X15, X16, X18, Y(UK)2, Y(UK)3, together with Option Z Additional Conditions of Subcontract.
This form of contract encouraged a collaborative approach to any cost variances and change control procedures. All variances to the contract scope were identified in advance and cost/programme impacts notified early on to avoid conflict at final account stage. Monthly Applications were submitted by Enviraz to aBV and representatives of both parties met regularly to discuss the certification of the works ensuring that open and honest communication underpinned the contract relationship. This provided both parties a degree of cost certainty when submitting financial reports to their respective companies.
Project Team
Enviraz Contracts Manager, Craig Smith was the lead client contact for the duration of this contract. As a Senior member of Enviraz Operations Team, Craig's near 20 years' in the asbestos industry was beneficial as he acted as the main point of contact throughout the contract. Craig's responsibilities included management of the site staff, resource management, coordination with sub-contractors and client liaison. Throughout the contract our Quantity Surveyor, John Kennedy, and Health & Safety Officer, Jonathan Green, and Compliance Officer, Tony Donnelly, were available to provide additional support as and when required.
Our on-site supervisor, Marcin Rybka, undertook direct supervision of works, and all on-site operatives held the relevant certifications: Asbestos Removal Supervisors Courses and Refreshers, PASMA, IPAF, Red Box Systems, CSCS and confined space entry systems.