Utility
Rainhill Grid Substation
Duration: July 2017 to August 2021
Type(s) of work: Provision of Asbestos Management Services
Project Description
SP Energy Networks (SPEN) are a Distribution and Transmission Network Operator who ensure electricity supply to homes and businesses throughout Central and Southern Scotland, North Wales, Merseyside, Cheshire and North Shropshire by taking electricity from power stations, windfarms and other utilities and transmit it through their vast transmission network.
To facilitate this service SPEN maintain a distribution network consisting of 30,000 substations (Grid, Primary and Secondary), 40,000km of overhead power lines and 65,000km of underground cables.
In order to achieve this task SPEN employ some 2,600 staff in 34 locations across Scotland, England and Wales and utilise the services of 2500 service partners.
In July 2017, after a rigorous procurement process, Enviraz were proud to be awarded a place on Lot 2 of SPEN's Framework Agreement for Asbestos Management Services.
---
Responsibility
Principal Contractor
Enviraz assumed the role of Principal Contractor, for the locations requiring Asbestos Management Works including, but not restricted to, establishing security, site welfare facilities, exclusions zones and emergency plans. This process required liaison with the client and their agents to ensure access/egress and waste transfer routes were established without negatively impacting on the continued operations of the sites.
Our 24/7 delivery model enabled us to meet our client's strict schedule while our quality, environmental and safety management systems ensured works were carried out to the highest standard, resulting in client satisfaction.
---
Client Satisfaction
This is what Jason Reynolds, Project Manager for Scottish Power (Civils and Environment) had said about the Enviraz team:
"Enviraz (Scotland) Ltd has a proven track record of maintaining Scottish Power's KPI's. They have maintained an excellent service delivery record on all planned and emergency/reactive works. Scottish Power would recommend Enviraz (Scotland) Ltd for all asbestos surveying and removal due to the fact they are a well run, modern and innovative company."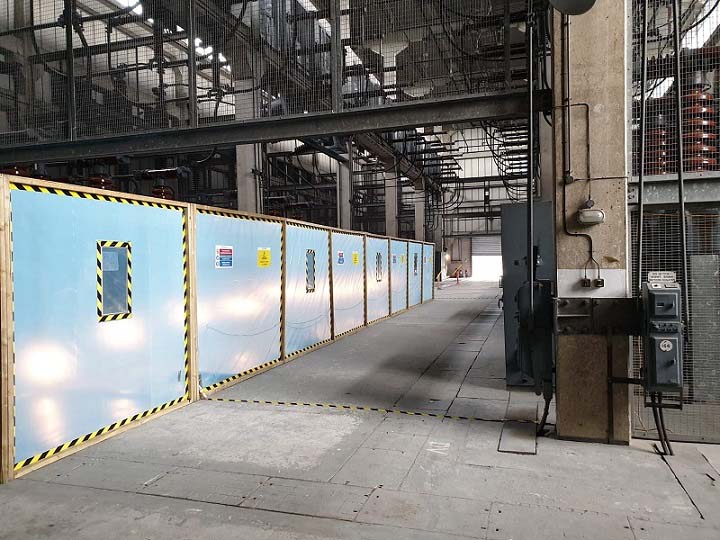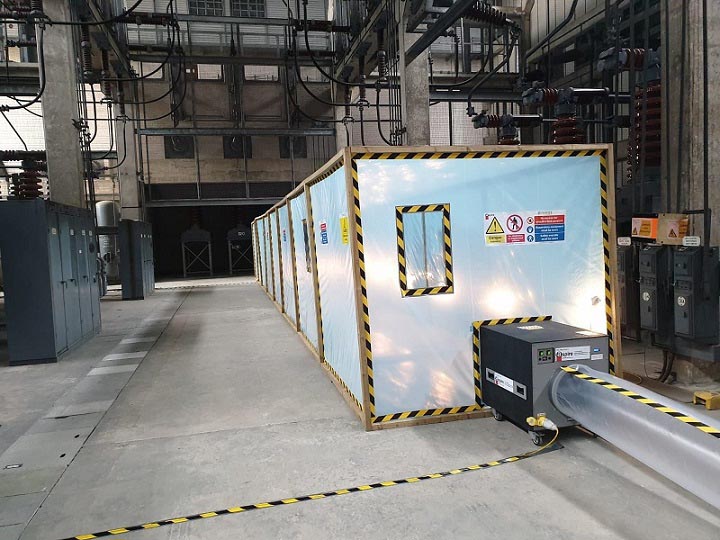 Service Delivery
Rainhill Grid Sub Station, Lea Green, Rainhill, WA9 4QF
Phase 1 Works
Duration: 16nr days
No. of Operatives: 6-10nr
Scope
Removal of 30 lin. m external AIB panels from duct cover in the First Floor Control Room and environmental clean to 90 lin. m cable trenches within the Ground Floor Switch Room.
Description
Operations were being carried out with live switch gear and cables within the works enclosure, which meant that wet mist spray was not permitted upon the site and that Standby would attend all times throughout the works. Enviraz carried out a pre-clean of the are using half masks and coveralls, prior to the establishment of enclosure. AIB panels were fixed to the timber covers of the cable trench, were removed by de-nailing and immediately bagging/wrapping upon removal. Works area was then cleaned, and all debris removed. When cleaning the cable trenches H-VAC's were fitted with plastic extensions to allow operatives to clean without having to reach into the switchgear. External surfaces were cleaned with tac-rags all waste bagged and removed immediately to the on-site skip. Upon completion of the works the clients appointed analyst completed a 4-stage clearance.
Throughout the duration of this project and the Framework, in general, Enviraz remain aware of the sensitive environment we are operating within and made relevant changes to our working methods and practices to ensure minimum disruption and inconvenience.
The Enviraz Service Delivery model places Client Satisfaction at its core and the buy in across our organisation enables us to regularly surpass our client's expectations while our quality, environmental and safety management systems ensured works were carried out to the highest standard. By continually exceeding customers' expectations Enviraz can maintain its market leading position as Scotland's largest, independently owned licensed asbestos removal specialist.
By utilising the appropriate resources and establishing positive working relationships with all stakeholders, Enviraz completed the project within budget and in line with the client's programme.
---
Adherence with Legislation
Enviraz Scotland Ltd hold a full asbestos removal license, issued by the HSE, allowing us to undertake asbestos removal works of materials identified as "licensable". All works were undertaken in line with the requirements laid out within the Control of Asbestos Regulations 2012 and all relevant guidance, ACoPs and Memos published by the Health and Safety Executive and trade bodies.
From the outset of the contract, Enviraz acknowledged the guidance of Scottish Power and accepted that on top of the legislation surrounding asbestos, an additional procedure required to be implemented to manage the risks to workers working within substations and in the vicinity of electrical equipment. For this reason, Enviraz ensured a rigorous training program was implemented for our teams selected for Scottish Power works, ensuring as a minimum, Safety Rules Induction training (WI-2) was undertaken through Scottish Power training services. This included management, supervisors, operatives, and members of our compliance team, who would be ensuring safety standards were being adhered to during the works. Selected members of the site teams also received additional training to allow independent entry to substations and key holder status.
Enviraz developed and changed our plan of work (RAMS) document to reflect the risks posed on Scottish Power sites and ensured other documents in our document register, such as safety audits, and sign off sheets were changed to reflect the works undertaken, not only to ensure the safety of our operatives onsite, but to ensure we were providing the highest level of service to our client.
---
Project Team
Enviraz Contracts Manager, John Miller is responsible for the successful delivery of the Framework. John has over 10 years' experience within the asbestos industry, at operational and managerial levels and is a Senior member of Enviraz Operations Team. John has overall responsibility for delivering the project on behalf of Enviraz and day to day tasks included management of the site staff, resource management, coordination with tradespeople and client liaison.
Throughout the contract our Quantity Surveyor, John Kennedy, Health & Safety Officer, Jonathan Green, Compliance Officer, Tony Donnelly, and back office support team were available to provide additional support to all areas of the contract.
All key personnel held the relevant authorization for SPEN contracts with additional training for Site Supervisors and Operatives included Asbestos removal training (relative to their position within the company), PASMA, IPAF, Red Box Wet Injection Systems, Falcon Quill Operators Training and CSCS.